Sunny Buick was the curator of the Sci Fi Western art exhibit in 2003 which included over 100 artists. Many of the artists (96 of them) submitted their work in time to be included in the exhibition book. — ed, N.E. Lilly
Sci Fi Western Art Exhibition
As a child, sitting Indian-style in the dark too close to the television; my face glowed eerily from the flickering light. Hour after hour spent watching Roy Rogers, John Wayne, Godzilla and Flash Gordon. It was great to have a flaky babysitter who didn't bother to get me to bed on time. Westerns had little to offer a girl but beautiful horses and fancy clothes. Science fiction films, on the other hand, with their flashy destruction and glittering metallic surfaces captured my imagination. I've always been a girl with one eye on the past and the other eye winking at the future
Years later after having collected a vast number of artist friends, I formulated a strange vision. The combination of SCI-FI Western is not a new idea. It has been a part of the collective unconscious for quite some time. Yet there are few examples of this hybrid from the heyday of the two greatest B-movie genres. It would have been extremely difficult to present one film that would bring the two fan bases together. The incongruent time element and the fact that you were either a Science Fiction fan or a cowboy western fan posed the biggest problem. However, why it never happened is puzzling, as the two subjects shared so many basic elements, good guys vs. bad guys, often a hero repelling a foreign force, with good always triumphing over evil. Desert landscapes whether on earth or in space set the stage for exploration, freedom and adventure. There were even symmetrical accessories, handguns and ray guns, coordinated uniforms and personified transportation. Maybe we weren't quite ready for our past to be introduced to our future. We were still trying to figure out what it all meant. Since those days Aliens, Indians, Cowboys, Spaceships, Robots and Rockets have become symbols and icons of America, an ideal America with a strong connection to yesteryears and a glorious vision of tomorrowland.
Why Science Fiction and Westerns? It is our own interpretation, personal myth and pure fantasy about our past and future. Each opened a world of possibilities, we imagined Time machines that would help us undo our errors and we imagined Space machines that would solve all the world's problems. Who lives in the present? No one. We're always holding on to an illusion of our glory days or residing in a dreamland of future utopias. The uncharted territory of the mind can be as lonely as the desert or space, chained to mistakes of yesterday or terrified of the shadowy nightmare of tomorrow. We struggle to make sense of the two. In searching our hopes and fears we uncover treasures in memories and the lessons learned. With this knowledge we create the future through our dreams and imagination.
In SCI-FI Western we bring together yesterday and tomorrow. When the past and the future are united we find the present. An artist lives in the present during the process of making art. We solve each problem as it comes up and the proof is in the finished product. This theme inspired scores of creative geniuses to create a new vision especially for this show. It seems that Science Fiction and Westerns were very important symbolically in our formative years. When looking at this imagery it is interesting to see who is winning in each artist's battle. In some of the pieces the future is horribly scary and in others it is hopeful and bright. How much does this reveal about our internal landscapes? Within these pages we have visionaries borrowing images of the past and leaving it to future generations to interpret where we were in this present moment. Ladies and Gentlemen, through time warps and deadlines, showdowns and shootouts we bring to you the greatest collection of SCI-FI Western Art ever presented. Blast off, Partner!
Pioneer Space Commander,
Sunny Buick
San Francisco
Planet Earth, 01/03
---
Hiawatha Encounters the Flying Purple People Eater by Todd Schorr
Mathematics Takes a Holiday by Robert Williams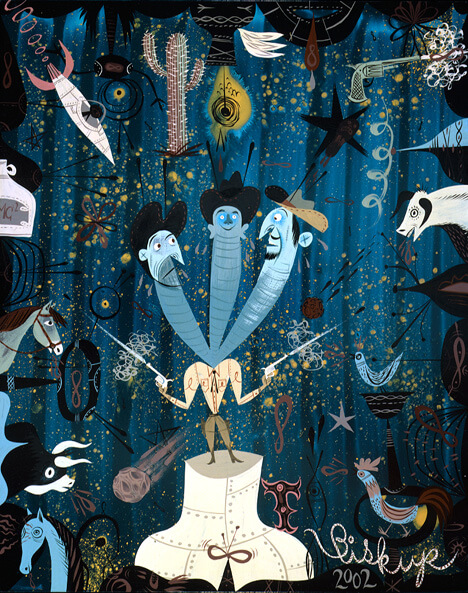 Round-up to Infinity by Tim Biskup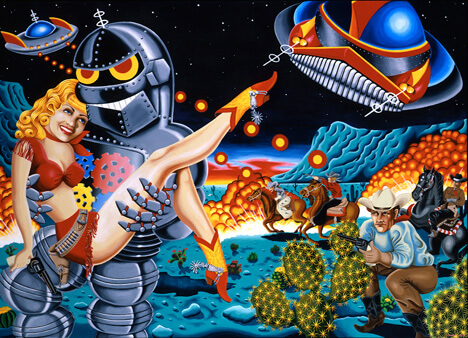 The Love Machine by Sunny Buick
We Can Help by The Clayton Brothers
The Spoils of War by Mike Davis
Dead Astronaut by Douglas Fraser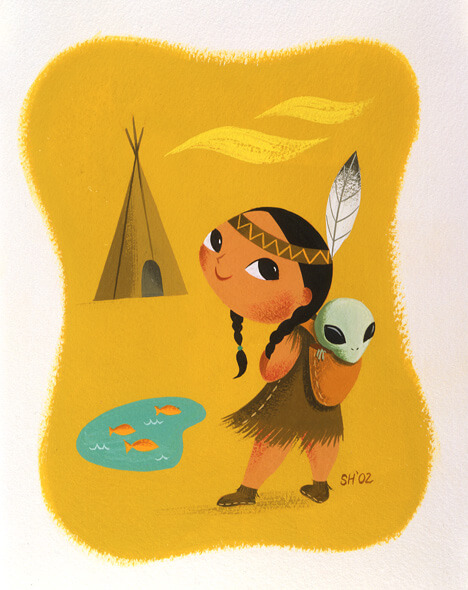 Hopi Doesn't Find Out by Seonna Hong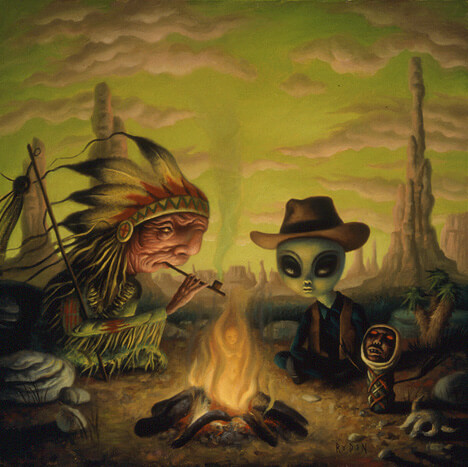 Shapeshifter by Mark Ryden
Besame Mucho by Isabel Samaras
The Sci Fi Western Catalog is available for purchase on Etsy.
♠
Sunny Buick is a part of the lowbrow art scene. In 2003 she organized a massive group art show and catalog called
Sci-Fi Western
. She's written for
Juxtapoz
and several tattoo magazines. She currently lives in Paris where she daily finds inspiration and lives out her artistic dreams.
Related articles